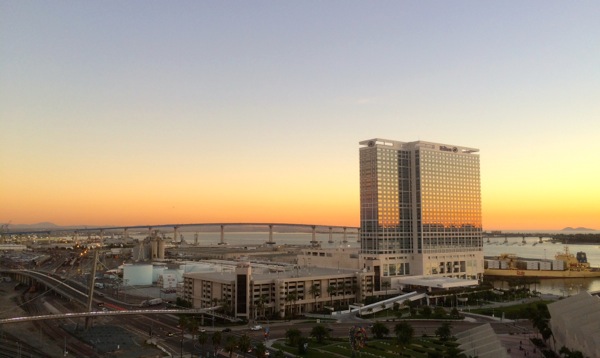 Gotta love California!
A few of my favorite bloggers do annual "Year in Review" posts that are some of my favorite things to read (read these three to get a feel: Patrick, Brennan, Amy). What makes them so enjoyable for me is that it pulls back the curtain for me on their entire world and how the pieces all fit together, their triumphs and their failures. I suspect they don't do it more frequently because that kind of honesty and vulnerability is draining.
I've been meaning for years to start doing these types of posts myself, and I decided recently that I'd better start soon or I'll die waiting to begin. So even though this is six or seven weeks into the year already, I hope you enjoy.
A little background may be necessary.
My wife Alexis and I live on the Upper West Side in NYC. We're both self-employed and have been since 2007. She does social media and content marketing, and I do mobile application consulting and development. I also started a tech company in 2010 (ugh, didn't realize it had been that long ago) with a friend.
Summary
Almost doubled consulting revenue, hired a coach, went on three cruises (for work), bought a profitable SaaS business, traveled a bunch, screwed up my knee, and one more thing.
Consulting
Note about terms: I used to refer to myself as a freelancer, but I hate that term now. What I actually do is contracting, but I refer to myself as a consultant for aspirational reasons.
I did web development for the first few years of my freelance career, and about five years ago, I switched to doing mobile, specifically iOS development.
I love it. I help startups and midsize companies (and the occasional very large company) plan, build, and grow mobile applications to support their business goals. Over the years, I've gotten to work on some very fun projects with some very talented people.
I was blessed to have another amazing year in 2014. Revenue was up 91% year-over-year from 2013, and thanks to the magic of solo consulting with very low overhead, very little of that is lost to expenses. I did hire more subcontractors in 2014 (more on that later), but most of that revenue I'll get to keep (and pay taxes on, ugh).
I'll say it again: if you want to dramatically grow your income, it's worth considering working for yourself. It took me longer than it should have to get here, but now that I'm here, my income is growing dramatically every year, much faster than it would it almost any job or career other than self-employment. If you're interested in this and would like to talk more, email me. I'm not selling anything, but I love helping people take the first step on the road to owning their own time and success.
Sometime in 2013, I started taking a serious look at my business. Until then, I had thought of myself (and behaved) as a freelancer, and this was just a way to make some money on my way to somewhere better. I enjoyed the work, but I didn't have much of a system for getting it, performing it, etc. Reading "Double Your Freelance" in late 2012 was a turning point, and then in summer of 2013, I took a recurring revenue workshop put on my Patrick Mckenzie and Brennan Dunn that started to dramatically shift my thinking about my business.
By early 2014, I was beginning to do things differently, and that trend continued and accelerated throughout 2014, to dramatic results.
I hired an intern developer to help with some of the programming tasks that don't require a lot of expertise. He's a solid developer and I direct and review all of the work he does, but it frees up a lot of my time to focus on the really valuable thing I do for my clients, which is leverage technology to solve their business problems effectively.
I also hired a virtual assistant, which I've done before with mixed results. This experiment is ongoing, and while my VA is great, my big problem is finding things to pass off to her. But the list of things is growing and I'll hopefully have more to report here in 2015's end-of-year post.
In one of my more interesting experiments, I went on three different week-long caribbean cruises by myself in 2014, solely for the purpose of getting work done. I know it sounds ludicrous (and it felt ludicrous every time), but cruise ships are now one of my favorite places to get work done. I have a whole post about this that I'm writing up, so if you want to hear more, be sure to subscribe to make sure you don't miss it.
Finally, I hired Brennan Dunn for six months as a business coach, which basically consisted of weekly calls to review my business, discuss challenges, and figure out next steps to get to the next level. I got more than enough out of it to be worth it, but less than I was hoping. However, that's entirely on me, because I didn't execute on the things we talked about as well as I should have. I'm working hard to rectify that in 2015.
Conclusion: had an amazing year of contracting, started the switch to building a consulting business, and am already seeing results. My goal is to double my revenue again in 2015.
DailyPath
I started a company in 2010 with a friend, and we went through an incubator in Portland, OR. We had an amazing experience and eventually moved the company with us to NYC. I'll spare you all the details, but from 2010 to 2013, we changed the business 2-3 times, looking for the right product-market fit. The business was doing OK but not great financially and in terms of growth, and by mid-2013, we were experiencing enough success from our consulting work that we decided we needed to significantly shift our thinking with DailyPath or just shut it down and focus on consulting.
So we shut down the DailyPath businesses and started searching for a profitable startup to buy that had a business model and growth profile that better fit our needs. Essentially, that meant that we wanted to buy a business that:
had other businesses, not consumers, as its primary customer base
made money by selling software on a monthly subscription basis (the SaaS model)
was making at least $1000 / month in revenue
charged at least $50 / month for the lowest-priced plan
could be purchased for less than $20,000 (we ended up paying much, much more)
Basically, our goal was to find a side project for a developer or small agency that had demonstrated some degree of product-market fit and potential (read: had revenue), but needed technical and marketing expertise to take it to the next level (read: not a lot of revenue). I'll write more in the future about why we had these criteria in mind, and a few new ones that I will definitely add to the list when I buy the next one.
(Incidentally, if you know of a small tech company for sale that fits some or all of these criteria, please contact me immediately. Not only am I in the market myself, I know several people with their checkbooks out ready to buy something like this.)
We searched for months for a good fit and we ultimately bought something quite a bit larger than we had first set out to find, but I'm very satisfied with what we purchased and how the ensuing year of operations has gone. I'm not yet ready to talk publicly about the company, but we're hard at work on a big version 2.0 relaunch, at which time I'll provide more public details.
Personal
On the personal side of things, Alexis and I finally got our act together and started seriously budgeting and sticking to it. We created this list of budget rules that hangs on our fridge, and with the exception of a couple months in 2014, we've stuck to it. It's made a huge difference in my stress levels about money, though more income helps too (seriously, email me about making more by being self-employed).
We celebrated our tenth anniversary in 2014 and took an amazing trip to St Lucia. We also spent a very fun week in Mexico with friends from San Francisco. Unfortunately, I messed up something in my knee running on the beach there and it's been plaguing me ever since. I keep putting physical therapy in the budget every month but I haven't gotten around to actually going. Stupid.
We moved from our one-bedroom apartment into a three-bedroom apartment that we got an amazing deal on. We also bought a car, which is unusual in NYC. I love the city, but I also love getting out of the city and having a car makes that so much easier.
Conclusion
In many ways, 2014 was the best year I've ever had, both personally and professionally. Alexis and I both grew our businesses significantly, acquired a new business, traveled, celebrated our tenth anniversary, got a great new apartment and car, grew closer with a fantastic group of friends in NYC and beyond, and got our personal finances in shape. A few things didn't go as well, mostly in the area of executing on plans I had, but I'm much more focused on execution in 2015.
I'm pretty sure 2015 is going to be even better. Part of that is my general sense of optimism and the way the first couple months of the year have gone, but mostly, it's because of one more thing I found out in 2014 that I haven't mentioned:
It's a girl!